Karen's Classes
Learn to Read "The Secrets" Within The Petit Lenormand Oracle ~ Beginner Level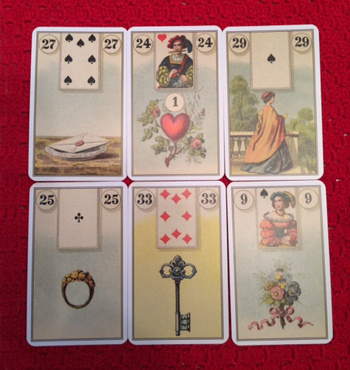 Tuesdays April 18th—
June 6 2023
This Class Will Be Taught On-Line
The Petit Lenormand Oracle consists of 36 cards and was named after Marie Anne Adelaide Lenormand who was a famous French professional fortune - teller during the Napoleonic era. It is a beautiful and incredibly accurate tiny deck of picture cards that are read differently than the Tarot. If you have struggled with reading the Tarot or a regular deck of playing cards, then the Petit Lenormand deck may be for you!
In this eight-week class, Karen will teach you all the secrets hidden within this amazing picture deck. She will explain each card in detail and how they relate to others in combinations to give a glimpse into your future! Come have fun and learn with others like yourself. Your deck is included in the price of the class.
(8) Weeks total - Classes are forming now! Call 860-665-8024 between 9:00 AM and 7:00 PM Eastern Time today to reserve!
You must provide a $100. non-refundable fee to hold your spot in this class.
When: Tuesdays April 18th—June 6 2023
Evenings: 7:00 PM - 9:00 PM
Where: This is an Online Class, held via Zoom
Cost: $300* Total per person (Includes your own Lenormand deck and all materials)
you must provide a $100 deposit for this class to reserve your seat..
Class size: 6 persons, minimum - 12 maximum.
Sign Up: Call Readings By Karen at 860-665-8024
between 9:00 a.m. and 7:30 p.m. Eastern Time to enroll
You must provide a $100. non-refundable fee to hold your spot in this class
* Ask Karen about her class payment plan. Deposits and class fees are non-refundable.
---